Turnkey remote operation of parking lots
In use for more than fifteen years in the car park sector, IVPark is the solution to optimize operating costs, improve quality of service and meet regulatory obligations. IVPark plays a central role in organizations to:
Offer

 better service to customers

 while at the same time optimizing operating costs,
Improve 

employee performance 

in car parks,

Professionalize customer service

 via specialized personnel,

Optimize staff presence

, particularly in off-peak periods,

Define objectives

 and measure the quality of service in call handling,
Meet 

regulatory requirements

 : air quality, fire safety, safety commissions.
An intuitive and optimized interface
The ergonomics of IVPark Contact have been designed to meet the needs of remote operation of a few to several hundred parking lots in a simple and intuitive way.
Its modular architecture with no central point and its mobile operating stations make it adaptable and highly responsive.
Its design allows an optimal response to planning constraints (day, night, weekend, holidays) and to the location of car parks (national, regional, city operation).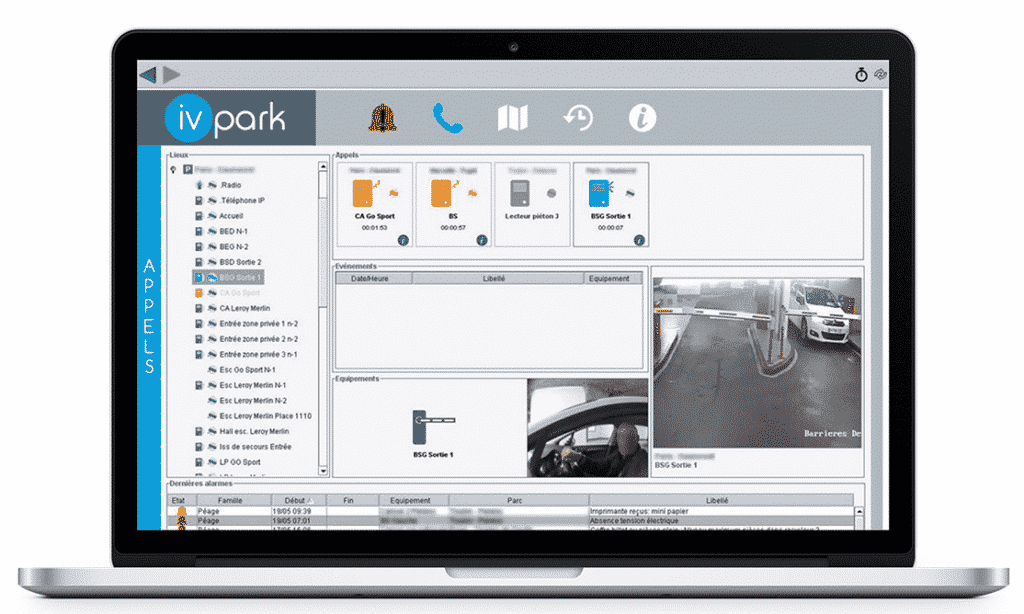 Quick and simplified handling of customer calls

Triggering a customer call on an intercom

The call is handled in a few seconds by the operator who dialogues with the customer while viewing all the elements related to the call

Provide information to the customer, trigger a remote action or call an agent on his walkie-talkie for a local intervention, depending on the reason for the call

The incident gives rise to a complete traceability, allowing a quality analysis a posteriori
Centralized alarm management
IVPark allows you to check at a glance the proper functioning of your surveillance and security installations in your parking lots: 
PMS alarms
alarms from security systems (fire, CO/NO, ventilation, pumps, …)
alarms coming from IoT connected objects (inverters, electric vehicle charging stations…)
It gathers in a single list all the alarms of your sites. This management system can be combined with our IVPark Video Wall solution, a dynamic image wall for parking surveillance.
IVPark is based on an architecture that is independent of field equipment such as intercom, video, PMS, licence plate reading and security systems (fire, CO, energy, ventilation, pumps, etc.).
Its modular architecture allows it to operate on a local physical IVPark Flybox to be closer to the equipment on large sites, or on a virtualized IVPark Flybox more suitable for small sites.
The IVPark Contact client stations are completely independent of the intercom system and can therefore be easily moved to a backup site or to a teleworking site via a simple VPN access.
Compatible with your intercom, video, PMS and security systems